Baile bajo los arcos en la parte
trasera del salón de recepciones.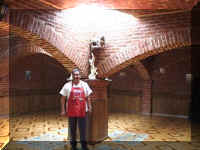 Dance under the arches (los arcos) in
the back of the large private events room!

Located in Zumpango about an hour North of Mexico City, Los Arcos is a great surprise in a small city well off the tourist path. Chef Fidencio Luna Cárdenas, who has made several appearances on the highly-rated television show Un Nuevo Día, provides anything but typical small-town restaurant cooking.

If you're looking for a place to hold an event that isn't in the 'same old places' but is close to Mexico City, I highly recommend Los Arcos in Zumpango. The city itself is older than Mexico City and the public square, directly in front of Los Arcos, is beautiful and traditional. Construction on the large church on the North side of the square began in the 1590's - old even for Mexico!